My father and I enjoyed floating the Alagnak river so much we decided to float another remote river. We picked the Chilikadrotna River in Lake Clark National Park. The beautiful scenery, chance of seeing caribou, excellent hiking, and of quality fishing were major selling points. The Chili starts in Twin Lakes and flows to the waters of the Mulchatna River.
We started our trip at Lake Hood in Anchorage. Our bush pilot loaded our gear in a Beaver float plane. There was plenty of room in this large single engine aircraft for the two of us, our raft, and all our gear. Using a non-stop flight for our trip was not the cheapest method to get to Twin Lakes but it was the least hassle and the most scenic. We figured it was worth the extra money.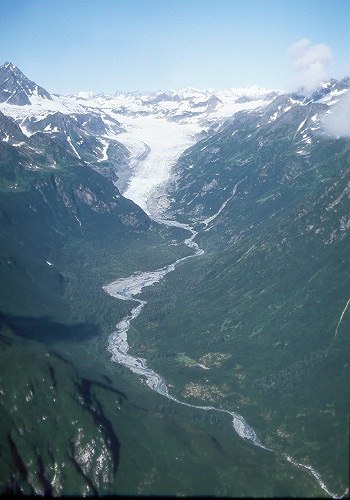 We traveled through the spectacular Lake Clark Pass. This pass is a grave yard to many aircraft. We were lucky to have beautiful weather. We got a birds eye view of several glaciers as we flew through the pass. As we got closer to our destination our pilot got out a Gazetter of Alaska to see where we were. He said it was easier to use than the aeronautical charts. I gave him a hand in spotting Twin Lakes.
Here's our bush pilot at Twin Lakes complete with carhart jacket. He was a great guy.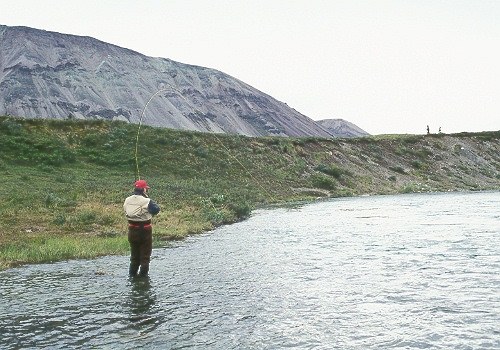 It didn't take long for us to find the grayling. Just hike down from the lake a hundred yards. We did well on western style dry flies.
Here are the headwaters of the Chili. Twin lakes is just out of sight over the hill above my father. You can see him wading in the river on the right side. We camped here for two days to hike and fish. I think a person could spend a week here and not get bored especially if they enjoyed hiking.