Seven of us went on a four day sea kayaking trip in Aialik Bay located in Kenai Fjords National Park near Seward. In spite of the rain it was a great trip. The first two days it rained non-stop so I was only able to take a couple photos inside our cabin. Here is the Holgate Cabin which we rented for the first night. We paddled to Quicksand beach and back the first day and dried our clothes above the propane heater which we all grew very fond of.
The second day it was still raining. We packed up and headed for Pederson Lagoon. After a lunch break and a change of clothes under the tarp we decided to head to Aialik cabin which we had rented the second and third nights. Here are some of the chefs cooking our shrimp curry.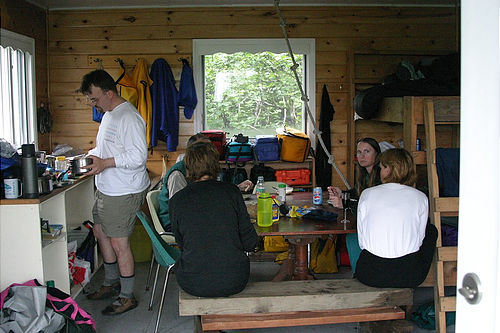 The rainy weather and toasty cabin were popular topics of conversation. Notice the rope hanging down from the loft. For some reason there was no ladder making it difficult to get into the loft which could easily sleep 3 people. We had several Black Bear encounters near the cabin including a close encounter when Carl left the outhouse and a bear on the porch which looked in the cabin window.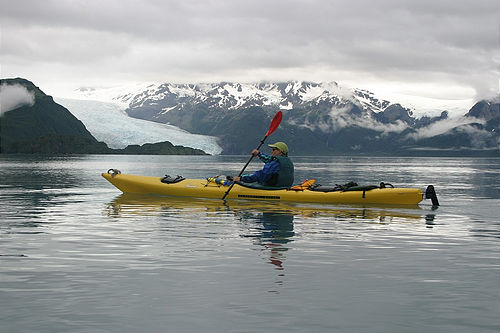 Finally on Saturday the weather broke and everything we waited for had paid off. Here is Donna paddling in front of Aialik Glacier at the head of the bay on our way to Pederson Lagoon. What a gorgeous day this was!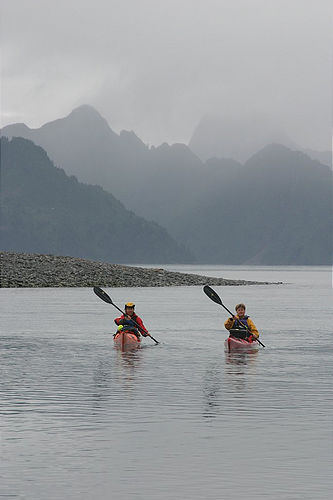 It's best to enter Pederson Lagoon at near high tide otherwise the current is too strong and the water too shallow.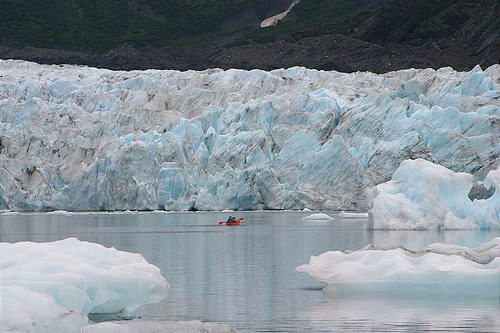 The lagoon adjacent to the glacier requires even better timing. We entered an hour before a major tide and stayed about two hours.