Sailing to Whale Island has been a dream of mine for several years now. Last year I canceled my trip due to weather but this year I was determined. The trick is a five mile crossing with the notorious current and wind of Whale Pass.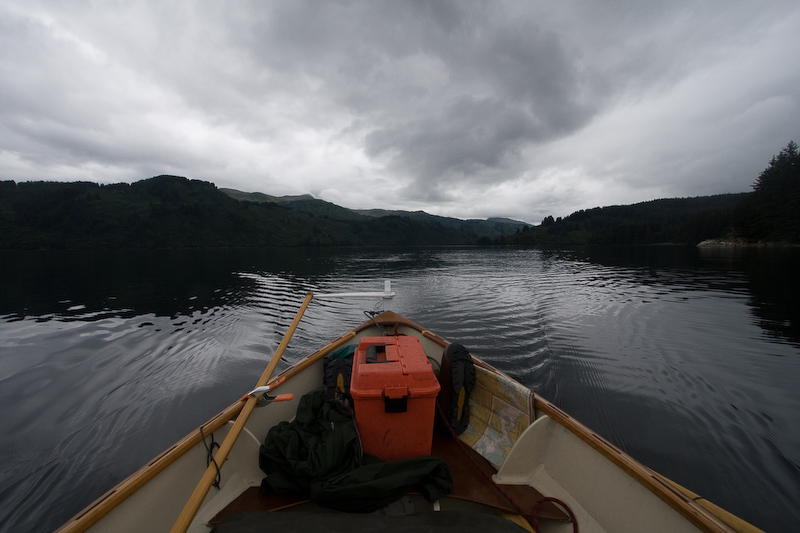 I started my journey rowing through the protected waters of Anton Larsen Bay.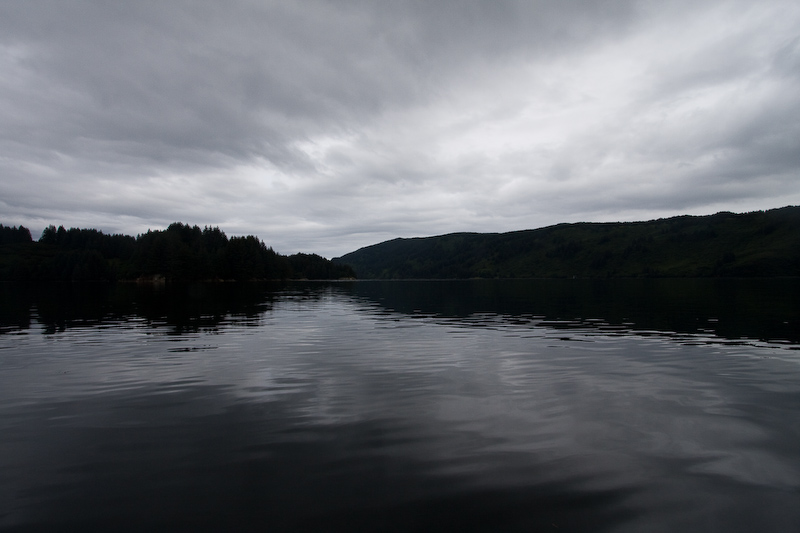 Anton Larsen Bay is a beautiful destination in itself.


A dozen or so people live a very peaceful life here. Most are retired or have vacation homes.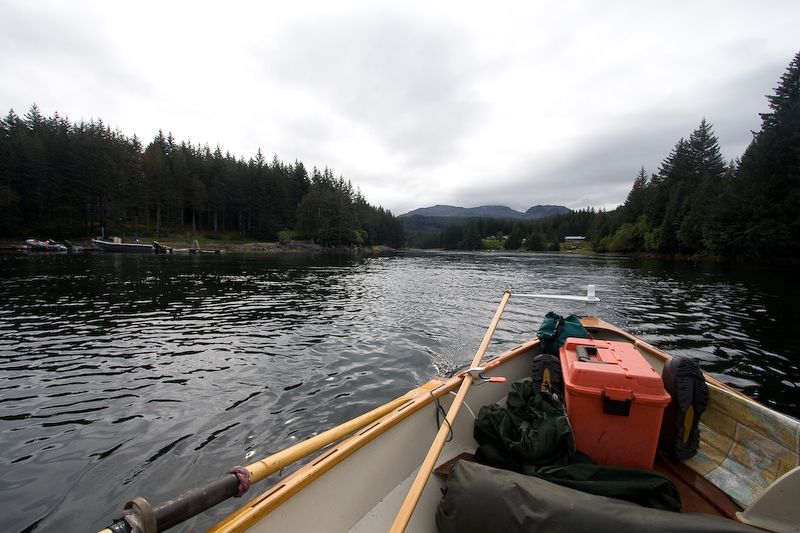 The ebb tide gave me a gentle push through the narrow inlet.


My 15ft dory was never designed to make open ocean crossings so the gentle breeze was a sigh of relief.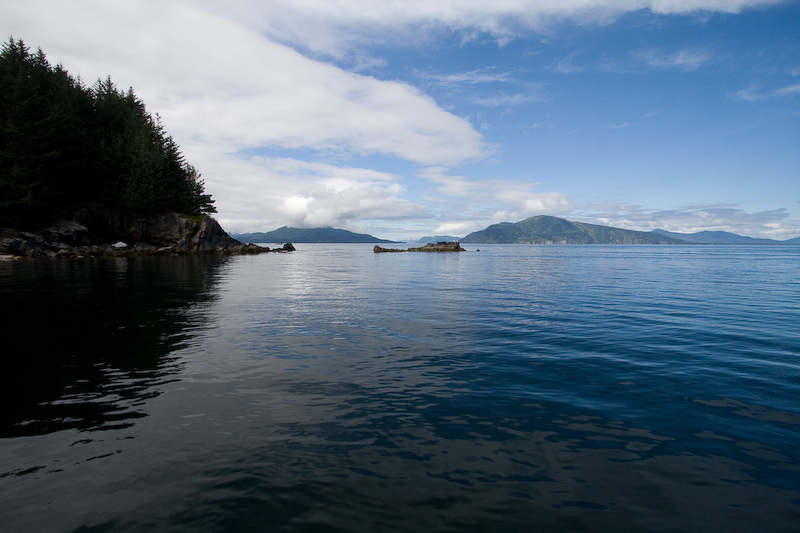 It was turning into a beautiful day with temps in the mid 50s.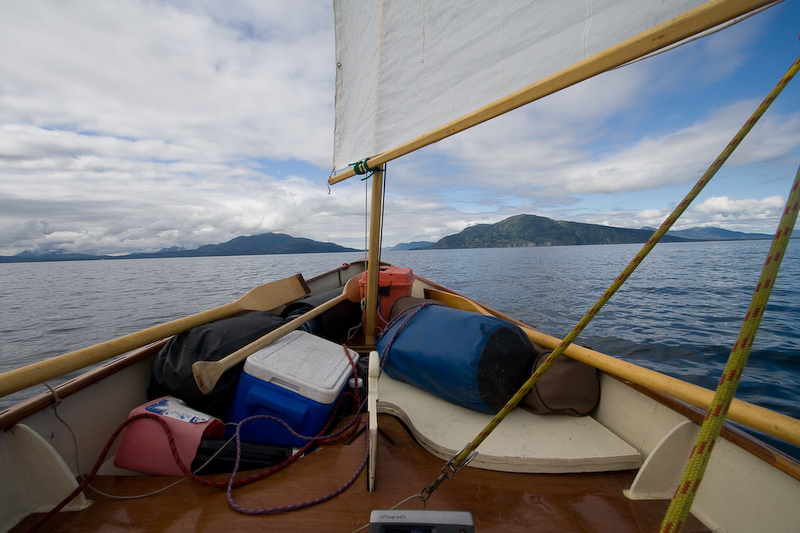 After rowing a short ways I could feel enough wind to justify sailing. I could see Whale Island ahead. It looked very far away.


I current dumping through whale pass pushed my boat to the right several miles and forcing me to compensate.


About half way across the wind really picked up (sorry no extra hands for camera). It was starting to white cap and blow about 15 knots. I was wishing I had reefed but never really felt in danger. An occasional splash sprayed me and my gear making it difficult to see.


I was relieved to finally complete the crossing after 2.5 hours. I arrived to an enchanted almost magical coastline with a city of rock pillars jetting from the water like sky scrapers.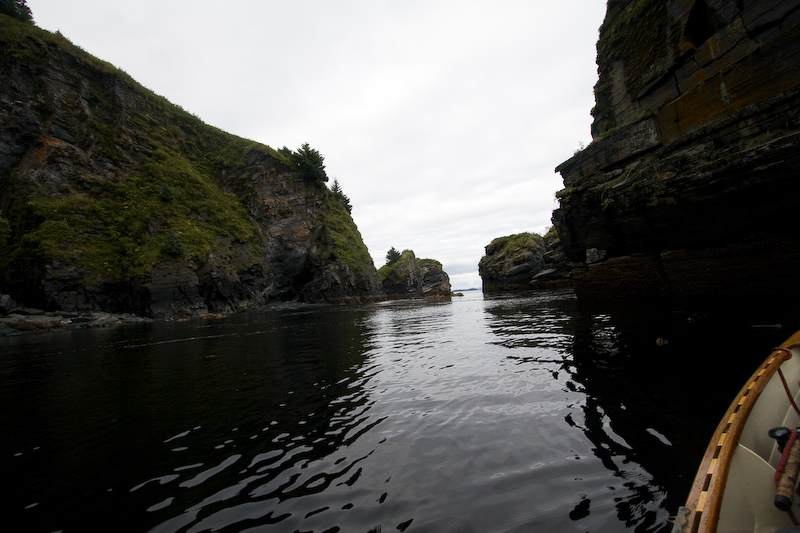 It felt like rowing through a giant maze.


The cliffs were alive with puffins and kittywakes.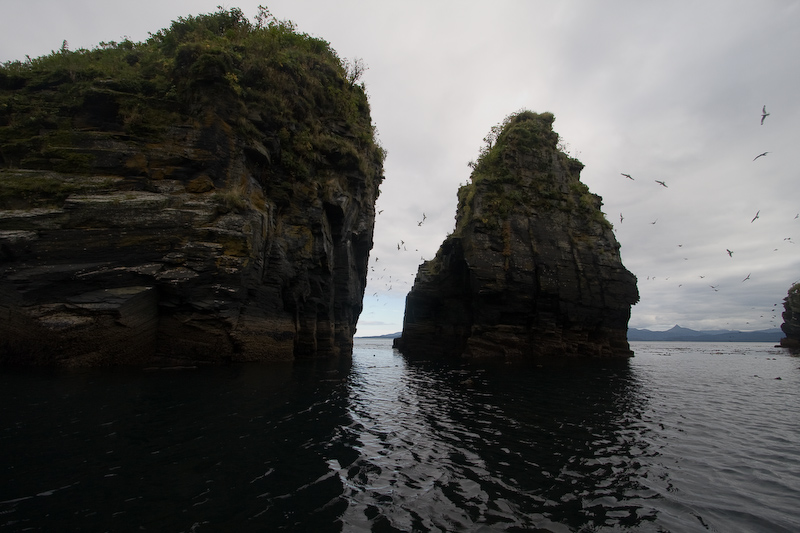 I followed the rugged eastern coast and admired the scenery. This is certainly one of the prettiest places I have been to.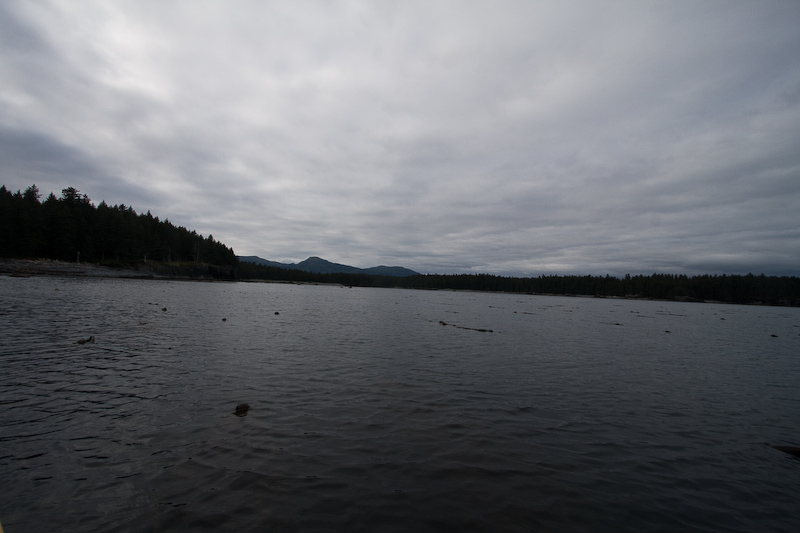 I knew this cove was shallow but I hoped it was provide enough protection for mooring my dory.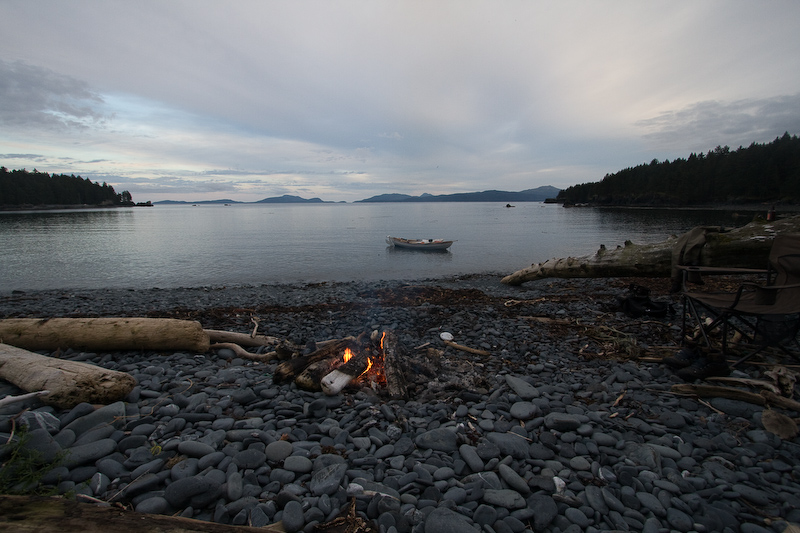 But first I needed to cook dinner. This beach provided a plentiful supply of driftwood for my dutch oven. I watched whales breathing in the distance as I relaxed in my chair enjoying a dinner of cooked vegetables and a cold beer.


As an experiment I recently constructed a makeshift tent to sleep in. I spent the night anchored in the shallow cove listening to Sea Otters swim around me and the deep low pitch sound of fin whales breathing in the bay. It was very relaxing.


I used a paddle which I usually take with my anyways to support my tent and four spring clamps. It was suprisingly sturdy and did not flap as expected.


Note to self. Don't sleep on boards you painted 24 hours earlier. I could still smell the paint a bit.


The next morning I awoke to a beautifully calm water. Listening to the marine radio caused me some great concern. The forecast was for 20 knot winds tonight and 25-30 knot small craft advisory with rain the following day. I decided my boat qualified as a "small craft" and changed my plans from exploration of Whale Island to "get the hell out of her."


There was not enough wind yet so I rowed the five miles across which took about the same amount of time as sailing did yesterday.


After I reached the midway point I sighed a breath of relief for I knew I could make it before the storm.


The wind never really developed as the forecast predicted but it was better to be safe than sorry.


Safely on the East side of the bay I poked into beautiful coves and islands.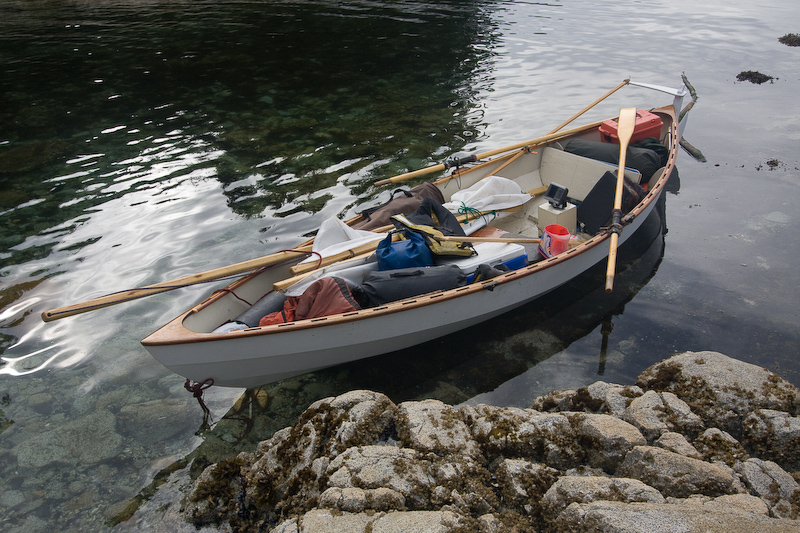 This region has a lot of granite. In fact just a few miles away the recently started a granite mine.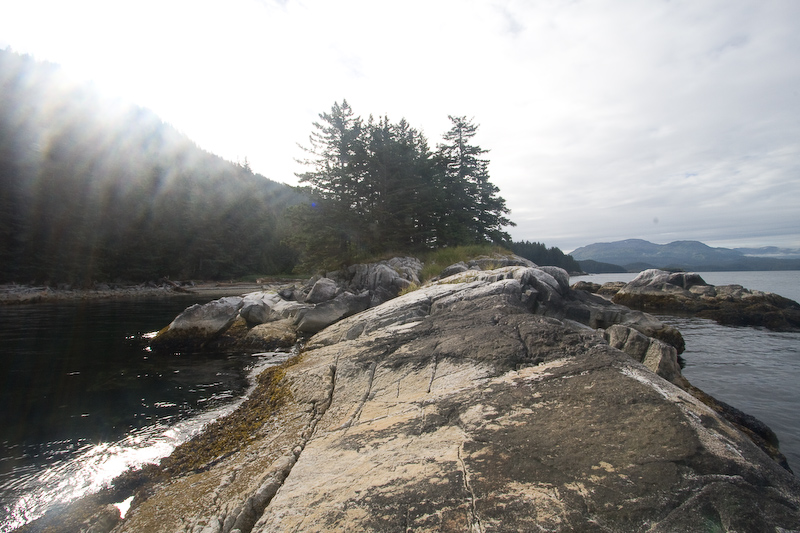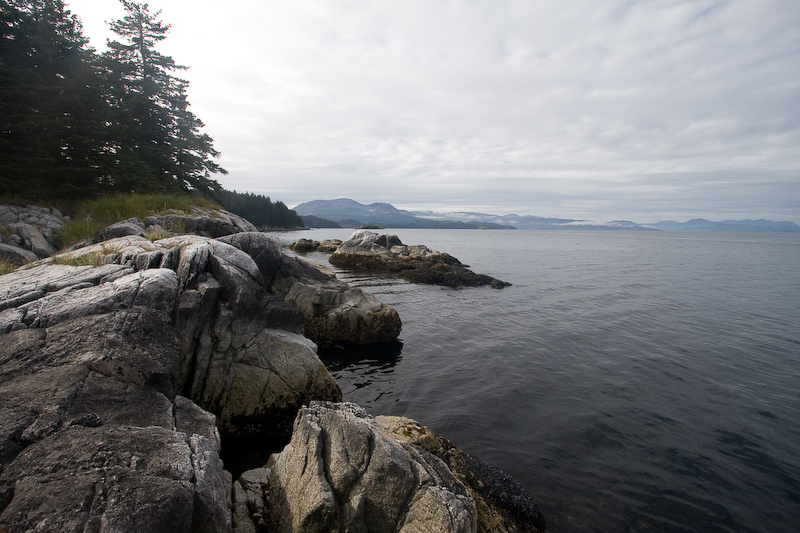 Schnauzer Island


Since I had plenty of time on hand I decided to sail to Sharatin Bay. The forecast SE wind that was supposed to slam the bay never happened this day. I ended up rowing back against a light north wind. Exhausted I reached my vehicle after a total of four hours of rowing for the day. I was sore and tired but happy to have experinced all that I did.