Glacier Bay National Park, AK
May 25-28, 2001
I was lucky enough to be invited on a four day sea kayak trip in the Glacier Bay National Park area near Juneau. Eight of us flew to Juneau and then to Gustavus. We stayed at a hotel and the next day loaded up our double sea kayaks on a water taxi which took us to our destination. Our outfitter was Alaska Discovery in Gustavus. Their equipment is top-of-the-line and their guides are first class. I highly recommend them.
Cathy and Ed loading gear.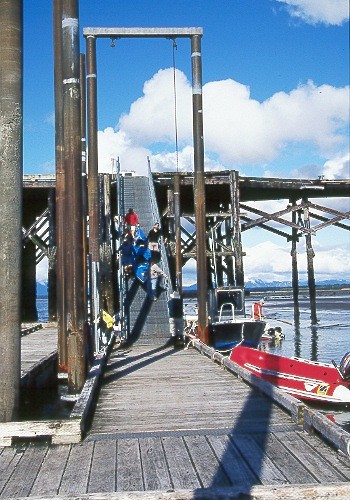 Here we are carrying the kayaks to the water taxi. The tide was very low which made the ramp steep. SE Alaska has strong tides sometimes over 20 ft. The tidal current can make for some hazardous paddling if you are not paying attention.
Here we are unloading the gear. The water taxi had to take two trips because we had 8 people. Doug had a 6-pax license for his boat. He built this boat himself. It was very impressive.
Here you can see where we got dropped off. What a beautiful place. We saw some deer on this beach.
We paddled up a river at high tide. We saw a brown bear in the distance. Here the girls pose "hiding their thighs." Must be a girl thing.